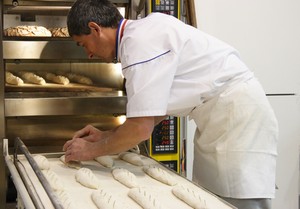 FOR ADVANCED STUDENTS
Our schools offer a wide variety of short courses, each providing the opportunity for you to perfect your skills and learn exciting new ones. A few examples of subjects covered by short courses: traditional breads, speciality breads, pastries, sweet tarts, sandwiches, preparation for competitions, etc.
      Offered by the following schools:

Long courses:

"CAP" (Certificat d'Aptitude Professionnelle) in Bakery
This courses enables students to acquire both traditional and modern techniques and to produce a variety of breads, pastries and cakes. Bakeries can offer a range of sandwiches, pizzas and quiches, and these areas are also covered. On completion, students find jobs with establishments such as traditional bakeries, sandwich outlets and retailers. Combined with experience, the holder of a "CAP" can open his or her own bakery.
       Offered by the following schools:
The Baking Center™ is the focus of Lesaffre's technological expertise, serving professionals in the bakery sector.
The Baking Center™ provides tailored technical support from the Group's experts. Equipped with specialist baking facilities and a sensorial research laboratory, the Baking Center™ is a multicultural forum for baking expertise.
The Lesaffre Baking Center™ runs a network of 38 baking centres around the world.