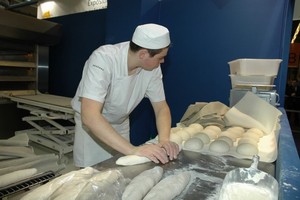 INTRODUCTORY TRAINING
"CAP" (Certificat d'Aptitude Professionnelle) in Bakery
This courses enables students to acquire both traditional and modern techniques and to produce a variety of breads, pastries and cakes. Bakeries can offer a range of sandwiches, pizzas and quiches, and these areas are also covered. On completion, students find jobs with establishments such as traditional bakeries, sandwich outlets and retailers. Combined with experience, the holder of a CAP can open his or her own bakery.
       Offered by the following schools:
"BAC PRO" in Bakery/Patisserie, "Brevet Professionnel" (BP) and "Brevet de Maitrise" (BM)
Holders of one of these Bakery-Patisserie qualification are able to work in the purchase of raw materials/ingredients, the preparation of bakery and patisserie products, the management of a company or retail section, marketing and team leadership, etc. and enter the workplace at a good level as a well qualified employee. Many students go on to further their studies in this field in order to reach a higher level or develop another skill.
      Offered by the following schools:

FOR ADVANCED STUDENTS
Our schools offer a wide variety of short courses, each providing the opportunity for you to perfect your skills and learn exciting new ones. A few examples of subjects covered by short courses: traditional breads, speciality breads, pastries, sweet tarts, preparation for competitions, sandwiches, etc.
      Offered by the following schools: